The European Patent Office (EPO) announced on March 16 that South Korean companies applied for 9,106 patents last year, up 9.2 percent from a year ago. The number reached a new high for the second consecutive year.
According to the EPO, U.S. companies applied for 44,293 patents in Europe last year to account for the largest portion. "Patent applications by U.S., European and Japanese companies decreased 4.1 percent, 1.3 percent and 1.1 percent in 2020, respectively," it explained, adding, "On the top 10 list, China's figures increased 9.9 percent to 13,432 and South Korea followed it with the second-highest rate of increase."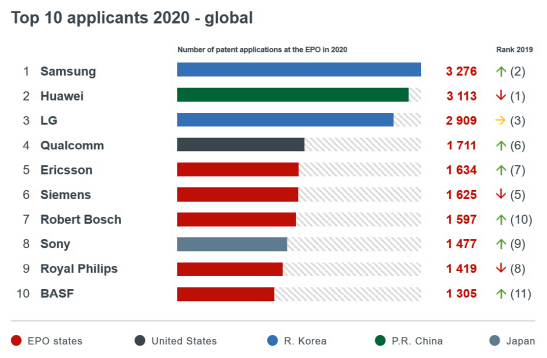 Last year, South Korean companies' European patent applications in the electronic device and energy sectors jumped 22.7 percent to account for 13 percent of their total. Samsung applied for 3,276 patents and rose to the top by beating Huawei, which applied for 3,113. LG retained its third place with 2,909 applications, followed by Qualcomm (1,711) and Ericsson (1,634).
Of South Korean companies, POSCO, Hyundai Motor Co. and SK followed Samsung and LG with 119, 112 and 93, respectively. In 2020, the total patent applications in Europe decreased from 181,532 to 180,250.