SD memory cards are an innovative, always evolving bridge media powering the future of the digital world. SD memory cards deliver high-performance products that allow consumers to quickly capture video, photos, and sound in a reliable, easy-to-use format.
SD technology is the de-facto industry standard for mobile phones, digital cameras, MP3 music players, personal computers, printers, car navigation systems, electronic books, and other consumer electronic devices. SD technology is used in some 400 products across dozens of product categories and in more than 8,000 models.
SD memory cards are available in standard and high-capacity formats along with a variety of speed classes. A next-generation SD memory card specification, SDXC (eXtended Capacity), will soon be released to SD Association members who will create cards and devices that support its greater memory capacity and faster performance speeds. The cards have the broad interoperability and compatibility needed to ensure that its applications will continue to expand far into the future.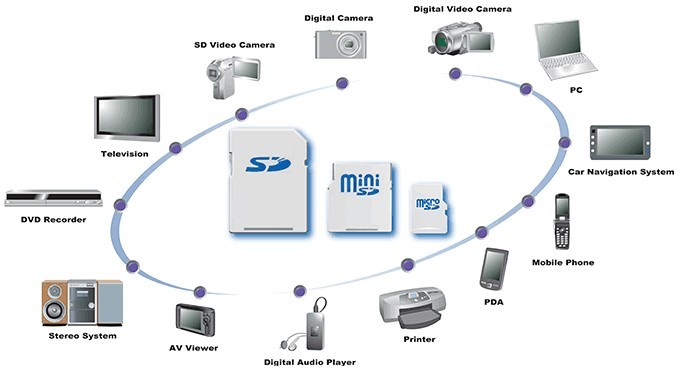 SDXC (eXtended Capacity) Cards: The Next Generation
The next-generation SDXC (eXtended Capacity) memory card specification, pending release in Q1 2009, dramatically improves consumers' digital lifestyles by increasing storage capacity greater than 32 GB up to 2 TB and also increasing SD bus interface read/write speeds to 104 MB per second in 2009 with a road map to 300 MB per second. SDXC will allow your electronic devices – from laptops to cameras, camcorders and mobile phones – to store more content and to download content faster than ever before.
High-Capacity Cards

The SD Association established a new specification rating for the minimum data transfer for standard and high-capacity cards, as well as both types of host products. With the ability to store between 4GB to 32 GB, you can do more at faster speeds across the entire SD line. Every high-capacity card is noted with "HC" to clearly designate this new capability.
With more storage, comes the need for faster speeds. The three Speed Classes allow host products to check the fragmented state in a card and calculate the write speed in each part of the card. This lets the host quickly determine where to write the data according to its speed requirement. The three SDHC speed classes — Class 2, Class 4 and Class 6 — transfer data at least 2, 4 and 6 MB per second, helping you to guarantee performance of your products. With the release of faster bus speed specifications, additional speed classes will soon be available to offer card and device manufacturers even higher guaranteed performance levels. SDXC, along with SDHC, Embedded SD and SDIO specifications, will benefit from the new performance specifications for SD interface speeds.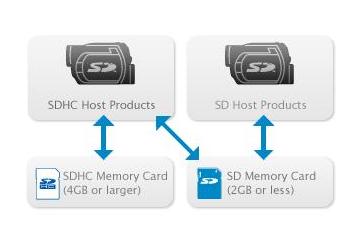 Copyright Protection
Ready for the Secured Digital Content
Content Protection for Recordable Media (CPRM), the content protection technology used for the SD card, is key to enabling a new distribution system for music and other commercial media. CPRM assures a high level of protection against illegal copying. The technology was developed by the 4C Entity, LLC (The digital contents copyright protection technology licensing organization of IBM, Intel, Panasonic, and Toshiba.)
Having a proven record in DVD, this protection is enhanced in SD memory cards through the use of "key revocation" technology built into each card.
The card's control circuitry allows data to be read and written (in its protection area) only when appropriate external devices are detected. A check-out (copying) from a PC to the SD memory card is restricted to three copies in compliance with the SDMI specification. All SD-Audio products comply with SDMI.
The SD card copyright protection function has the following features:
Access to an SD memory card must be enabled by authentication between devices
A random number is generated each time there is mutual authentication and exchange of security information